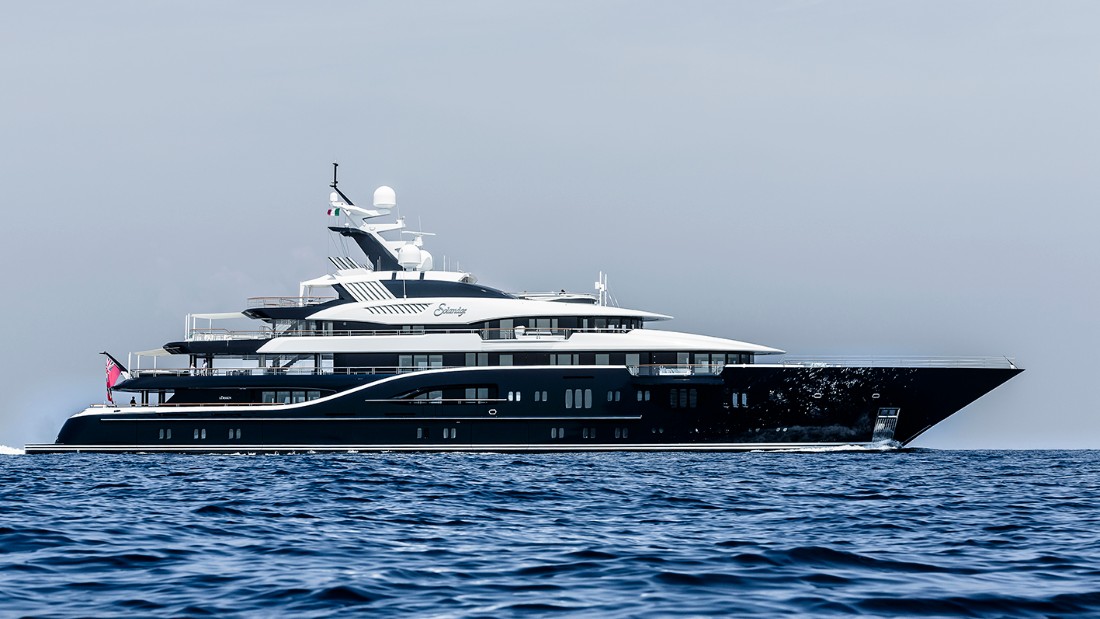 Your favorite celebrities and the ultra-rich can often be seen vacationing on private mega-yachts, the ever-popular floating mansions of the seas. Every time yachts are in the news, it seems like they just keep getting bigger. Just how big are luxury motor yachts becoming today?
#10 – Ocean Victory (459 ft)
Even last in our list, Ocean Victory's 459 feet are nothing to scoff at. Designed and built in Italy, Ocean Victory has seven decks, six pools, and even a garage for a smaller boat!
#9 – Yas (463 ft)
Launched in 2011, Yas will have you shouting its name all the way down its 463 foot deck. Interestingly, Yas was built on the hull of a former Netherlands Navy frigate.
#8 – El Mahrousa (478 ft)
Launched in 1865, El Mahrousa is by far the oldest yacht in our countdown. With age comes history, however, and Mahrousa has been used as Egypt's official presidential (previously royal) yacht.
#7 – Topaz (482 ft)
Topaz cost a pretty penny to build at $527 million – that's thanks to the German engineering that went into it. With 8 decks and 2 helicopter landing pads, Topaz weighs in at over 11,500 tonnes.
#6 – Prince Abdulaziz (482 ft 3 in)
Originally built in Denmark for the Saudi Royal family in 1984, Abdulaziz surpasses the previous entry by only 3 inches! At full capacity, the yacht requires up to 65 crew and can cruise at about 25mph.
#5 – Al Said (509 ft)
Continuing the trend of middle-eastern owned yachts, Al Said represents a marked increase in size to 509 ft. Owned by Sultan Qaboos of Oman, the German-built yacht was launched in 2007.
#4 – Dilbar 3 (512 ft)
Delivered just last week, Dilbar has catapulted herself into the top 5 at a length of 512 ft. The German shipbuilder has kept most of the design of the yacht under wraps, but it promises to be staple in the world of motor yachting for years to come.
#3 – Dubai (531 ft)
Mohammed bin Rashid Al Maktoum, the current ruler of the United Arab Emirates, is known for his love of excessive size and expense. A love which seems only fitting for the 531 foot, 115 guest capacity Dubai.
#2 – Eclipse (536 ft)
Owned by Russian businessman Roman Abramovich, Eclipse pulls no punches with 2 helicopter pads, 24 guest cabins, and two swimming pools along its 536 foot deck. And just in case you were worried about World War 3, Eclipse even has a missile defense system. Yes, you read that right.
#1 – Azzam (590 ft)
Azzam is the pinnacle of super yachts. Even at the massive length of 590 feet, Azzam is among the fastest yachts on our list, with a cruising speed in excess of 32 knots supported by 94,000 total horsepower.
(Future) #1 – Triple Deuce (728 ft)
While this list is complete as of May 2016, new yachts are always being built. Rumors have been circulating around a revolutionary super yacht under construction known as Triple Deuce for its 222 meter length. According to the purported broker's statement, the "ultra high-net worth individual" was worried about being eclipsed by a larger yacht – so why not just add an additional 175 feet!
Yacht Charter broker Addison has a great GIF showing a comparison between Triple Deuce and some of the other entrants in our list. Which yacht would you choose?