A New Study Shows that Growth in MBA Degree Holders is Greatest in Rural States
A new study reveals that in states like New Hampshire, Utah and Wyoming, the percentage growth in the average number of MBA graduates between 2011 and 2017 is as high as 93.5%. 
The statistics are part of the survey's wider analysis of the best cities in the country for business graduates, which ranked Boston, Richmond, VA and Washington, D.C. as the top three cities for recent business graduates to settle based on jobs, professional networks, and general city life. 
As a part of the overall ranking, the study reviewed the states where the percentage of the population with MBAs has grown the most and reported the percentage growths shown in their graphic below.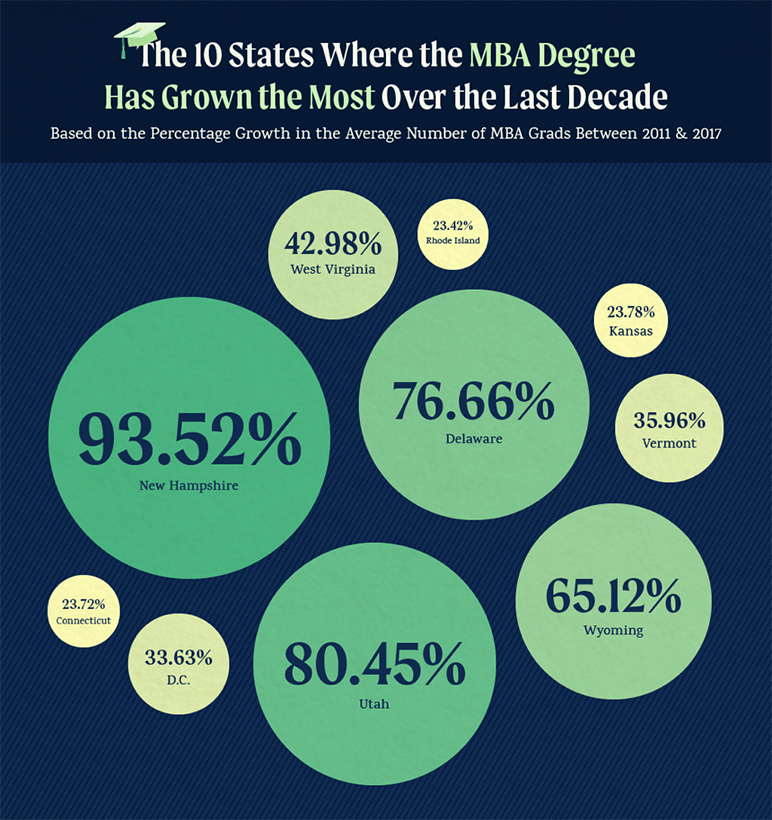 At first glance, it may seem quite odd that in states like New Hampshire, Utah, West Virginia and Delaware would top any MBA-related list. However, these results speak to a greater trend in the growth of formally-educated business leaders in the nation's more rural or blue collar states. 
As explored in an article from Forbes, the Midwest and the Plains have grown into business hubs in the past few years due to a number of factors including lower cost of business across the region, overcrowding in major coastal business hubs, and a sweep of successful new startups in states like Michigan, Indiana and Minnesota. This growth has led to a pouring of investment dollars into midwestern- and plains-region states. For local residents, there is no better time to get a business degree and try to join this new market development early on. 
While the numbers of growth to less metropolitan areas may seem quite impressive, it could be just the beginning. Along with more residents pursuing an MBA to get in on local business, there could be a massive relocation of MBA-holding individuals into these states after COVID-19 has led so many to abandon their city apartments for more space and lower costs of living.  For instance, that huge growth in New Hampshire may become even larger as Boston and New York City-based business professionals move out into nature and make remote work a permanent reality. A recent study shows that nearly 16 million people have moved during the pandemic. Who knows how many business professionals might be trading ties and loafers for flannels and boots!